Denon ASD-3W: Free The Music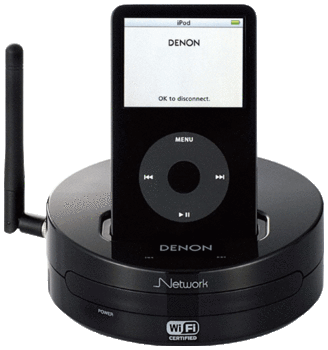 My friend showed me this product. He's actually selling this locally. His shipment just got in a few days ago. The Denon ASD-3w seems to be a great concept and product except for the hefty price tag.
What does the ASD-3W do? Well the ASD-3W is an iPod dock as well as a gadget that will allow you to pull music from your computer (Mac or PC) and output it through your home audio system.
If you got a great home theater/audio system in place and you want to play music from your iPod or computer but don't want all the hassle, the ASD-3W is perfect for you.
The ASD-3W accepts most docking iPods. Some models might need the universal dock adapter. When the iPod is docked, you can use the included remote to control your music. Hooking it up to your TV will also show a graphical user interface to help navigate through the functions.
The ASD-3W can access your music library and allow it to stream to your home audio system. This makes it a great product because you don't need to shift music around just to be able to play it on your premium sound system.
The Denon costs $229.99. A bit pricey but then again Denon is a premium audio company. I was hoping to test this myself but… a few days ago, I lost my iPod. That sucks!
For more info check the product page here.
Related Stories
POSTED IN: Accessories, Juan's Posts, iPod, iPod Classic, iPod Nano, iPod Touch