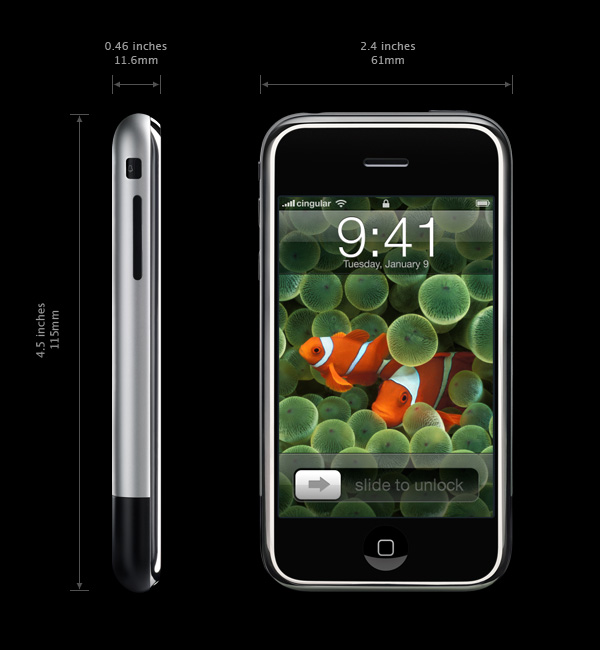 According to Lev Grossman's Time article, Steve Jobs calls the iPhone "the most important product Apple has ever announced, with the possible exception of the Apple II and the Macintosh,". Having read about it through the Apple web site and other various sites and blogs, I'm inclined to believe Steve.
It's an iPod, Phone, Internet Communications's Device all rolled up into one. This is nothing new, a lot of phones do this already. But as what the Time article also mentions, these other devices while they do all of these functions, they do it poorly. But the iPhone, oh the iPhone… it looks like it's going to do it all well.
Let's start with the iPod. It's a widescreen iPod. It's not a tone down version of the 5th gen iPod. It's actually a better iPod than the standalone one. Except for the fact that it only holds 8GB of data. But that's debatable. Some people don't need 80GB of data. Some can live with just 8GB.

Replacing the clickwheel is a multi-touch display and a scaled down version of OS X to power the functionalities of the iPhone. Replacing buttons, scroll wheels and other input devices by a single one with just changes the functionalities as needed. Virtual controls. The first thing that came into my mind was the computer in "Minority Report" scaled to fit a mobile device.
It's a phone. A phone is a phone but in this case, Apple reinvents how we interact with the phone. If you have the person on your contact list, just point to the name, number and it will dial it for you. Answering another call is a one push thing. So is 3-way conferencing. There's a lot of small things that Apple improved on it but suffice to say, the goal is to make calling, answering, text messaging, voicemail, simple and easy to do. The way Apple does most things.
It's an Internet Communications Device. My phone can surf the web. In fact my phone's mobile browser does an ok job with it. Far better than what I had just a year ago. But the iPhone makes my phone look pathetic. Because the iPhone is powered by a modified version of OS X, the apps installed in it aren't watered down versions of a web browser, email client, etc. It's a modified but robust version of the apps. The iPhone has a modified version of Safari that displays real web pages. Not mobile versions. IMAP or POP emails can be used with the iPhone. Not just that, rich email with HTML can be used with the iPhone.
Now the technologies that make these possible are the true magic of the device. The Multi-touch display controls the whole phone. Interchanging different UI's depending on what you're using. It also uses several gestures to do things. This minimizes accidental use of the iPhone.
The power of OS X in the palm of your hand. The iPhone runs on OS X and hence, it allows you access to desktop class applications that give you richer user experience. Running OS X on the iPhone has other benefits as well, tighther integration with your Mac. Giving better data exchange, syncing between your phone and computer.
Wireless capabilities. WiFi, EDGE and Bluetooth. Need I say more? Well ok.
To show how meticulous Steve and Apple are with their products, they loaded the iPhone with a bunch of sensors. An accelerometer knows when you rotate the device. Switching it between portrait and landscape mode. A proximity sensor that detects if you're holding your phone to your ear and turns off the display to save power and to prevent accidental operation of the device. Finally an ambient sensor to turn the display brightness up or down to save power and to adjust viewing. Brilliant. How many phones do you know are meticulously designed as this.
Now the bad thing. The iPhone is locked with Cingular…. Asian debut 2008. It's like dangling the most delicious candy in front of a child then saying, you can have this when you're a year older. That sucks. I would have wished that this device be an open lined one and could be bought by anyone for use at a GSM carrier. Then again it would probably cost twice as much without the telco's subsidy.
In anycase the iPhone at face value seems to be a definite winner. Heck I'm pretty sure it contributed to Apple's stocks surging 8.31% yesterday to close at $92.57. That's how much people think it will make a big impact.
Add to: