Are You Looking Forward to Office 2008?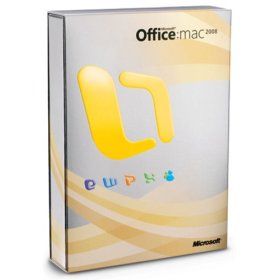 Office 2008 has been released to manufacturing and should available in time for it's launch on January 15, 2008 at MacWorld. That being said, are you looking forward to Office 2008?
After 4 years of waiting, what does Office 2008 bring and is it worth the wait? First, Office 2008 is now universal binary. It means it should perform faster because it's a native binary. It supports Open XML which brings compatibility to the Windows version of Office 2007. A new user interface ties things all together nicely.
Word 2008
Publishing Layout View - this is similar to what Pages already has, which is an interface for creating newsletters, flyers, etc.
New templates, themes, and other elements that will help you create professional looking documents.
SmartArt and Dynamic Guides.
MailMerge is also there to help you personalize mass mailers.
PowerPoint 2008
Integration with Apple remote
SmartArt and Dynamic Guides
Themes and other design elements to provide better looking presentations
Excel 2008
New formulas to make your common tasks easier to do.
Quick access to formulas and functions
Pre-built ledger sheets to help make financial documents such as invoices, inventories, etc. easier to make.
Entourage 2008
My Day keeps everything you need in one view. Managing your schedules, task and priorities is easy.
Access to Exchange servers via the Office 2008 for Mac and Office 2008 Special Media Edition.
Improved junk mail filter to keep those unwanted spam out.
With these new features, are you looking to forward to upgrading to Office 2008? Are you looking at other solutions.
Honestly with the$399 price tag for Office 2008 for Mac and $499 for the Office for Mac Special Media Edition, I'm not too sure if I'll be getting this. Money doesn't exactly grow on trees and I find that despite what seems to be a good software package it's too expensive.
I'm currently using iWork and though I still have a copy of Office 2004, I think I'll stick with 2004 for now. I use it primarily just for compatibility. When clients give me documents that I need to open. Otherwise iWork seems to be doing ok for me. $79 is a far cry from the $399 price tag. I'm not sure if the $300 plus is worth the extra features that I hardly use.
What's your opinion? Check out the details of Office 2008 for Mac on their official web site.
Edited…..
A commenter pointed out that owners of Office 2004 will spend $239.95 according to amazon's list price. That's a little less than the $399 price tag of the standard Office 2008.
Related Stories
POSTED IN: Juan's Posts, Microsoft Office, Software