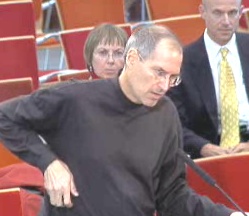 Yep that's right, Apple is building a new campus in Cupertino.
If you've listened to Apple's recent earnings webcast, or read the recent Reuters report, you've heard a slight mention of a "second Cupertino campus." There's not much information out there, but with Steve Jobs' public testimony available from Cupertino's City Council, we've got word (and quasi location details) straight from the horse's mouth. The CCC's website is woefully difficult to navigate, so I've encoded a Quicktime version of their webcast and uploaded it here. Steve seems pretty happy about Apple's recent acquisitions, and hopes others on the city concil are too: "Since we're your largest taxpayer, I thought you might be happy for us."
Perhaps the highlight of the presentation was when Steve was caught on camera scratching his side a few times. Though definitely more relaxed, he still doesn't fail to impress whomever he's addressing. Looks like the distortion field is working overtime here!
Watch the video here.
Thanks WinZu.
Add to: